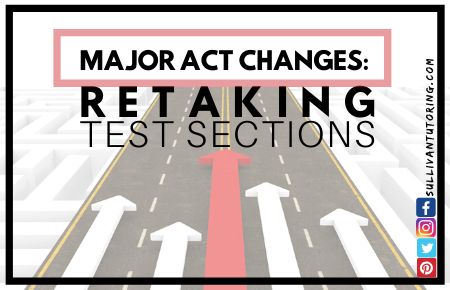 ACT recently announced three changes to the test that will be implemented in September 2020.
The changes:
1. Section Retesting
Once students have taken the full ACT, they are eligible to retake "one or more single-section subject tests."
2. Superscoring
Score reporting will allow students two distinct options. The first is to simply send in the score. The second option allows students to send the "Superscore"—the highest score from each section across all full-test attempts and section retakes. In the past, students had to submit all scores and colleges would consider the highest section scores.
3. Online Testing
Students will have the option to take the test on paper or online. The results would be available sooner for online testing, which would allow students to begin preparing sooner for additional retakes. However, many students may feel more accustomed to the traditional, pencil-and-paper test format, in which case they may choose to forego the new, online format. When in doubt, we recommend pencil-and-paper.
---
Section Retesting has raised some important questions like "How will this influence the admissions process?" and "How will this benefit students and parents?" We've looked into the advantages and disadvantages of this change to the ACT and they are certainly worth consideration:
How students will benefit:
Many students will be less stressed knowing that they can focus on improving one section at a time. This opportunity would allow them to allocate their study time to the subject they are retaking. Additionally, students often feel overwhelmed and drained by the 3+ hour test; retaking one section is less taxing on test day which will potentially translate to a better score.
How parents will benefit:
The change would hopefully lower the overall cost of test-taking since the fee for retaking a certain section would cost less than the fee for taking the entire test, according to the ACT. Since students retaking exams would not need to prepare for all four sections prior to the retake, tutoring services would be able to hone in on specific areas of content. This would allow parents to receive the greatest value from these services.
How colleges will benefit:
Students can improve their overall score and better each section, which would drive-up colleges' applicant statistics, thereby making them appear more elite.
The downside:
This new option could negatively impact how colleges perceive ACT scores; this change may make scores appear less legitimate since students can retake as many times as they need. The fear is that admissions will not consider the test scores a genuine snapshot of students' skills. Admissions councils are unsure whether it is fair to compare students who retook sections to students who spent the time retaking the whole test.
On the contrary, many may see any form of test retake as an indicator of a student's motivation to improve. The benefits likely outweigh the potential drawbacks. Moreover, when ACT implements this change, the College Board may make similar changes to the SAT to level the playing field.
Suzana Delanghe, ACT chief commercial officer, has commented on the changes and notes that
"The ACT test will remain the same valid, reliable indicator of student readiness for success in college…one that is based on 60 years of research and measures what's taught in the classroom. Our research shows that ACT scores for students who take individual section tests are consistent with those earned when they take the entire test. We are simply offering new ways to take the ACT, saving students time and giving them the ability to focus only on subject areas needing improvement."
To discuss how this change to the ACT might impact your test preparation plan, call Sullivan Tutoring at 978.774.0676. An individualized plan-of-action can help you use this change to your advantage.